Learning Kannada made super easy by KannadaGottilla.com
We will teach you Kannada through WhatsApp & KannadaGottilla Academy. Signup with us, and start communicating in 30 days.
KG Beginner
New to Karnataka? Do you have the fear that you can't converse in Kannada? We are here to teach you the basics of Kannada in a very short span of 30 days.
All we do is to add you to a WhatsApp group with a max duration gap of 15 days, after your registration.
Our 30 days course includes 4-5 words/sentences daily. As an effective add-on, we send the corresponding recording too. Assessment and interactions builds in a zeal of learning in you.
Doubts are entertained and answered by our mentors. This course is smartly designed for a beginner.
KG Beginner
₹

249
Learn Kannada through our all new KG Academy App and WhatsApp
ALL NEW
Sign Up Now
KG Advanced
You know little Kannada you can understand Kannada well but struggle with tenses and other grammar parts. Then this is the level which will help to ease ur difficulties.
In this course, you will be taught with some more grammar and meaningful conversations which will build ur confidence more.
Text and audio lessons followed by assignment s will make u an expert of Kannada within 45 days.
KG Advanced
₹

349
Learn Kannada through our all new KG Academy App and WhatsApp
aLL NEW
Sign Up Now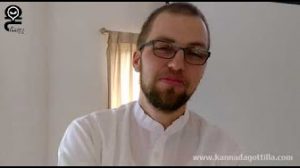 Communicate in Kannada, We will make it easy for you!
With experience of teaching over 4000 students from around 13 countries, we know how to make it easy for you! Sign up to our course and start speaking in kannada. Doubt us? Here is a video for you to see what our students got to say!
Frequently Asked Questions
How do we start learning Kannada?
Choose your course from our plans page. You will be signed up to KannadaGottilla Academy immediately after signup. Keep checking your emails for next further steps and updates.
How many people will be in a group?
A group consists of 25-30 ppl plus 3 mentors
Can I get refund?
Yes, you can until your batch starts. Once your batch for the course starts, then you won't be able to cancel/claim for refund.
When will I be added to the group?
We usually create groups once in 15 days. You will be added to our group within 15 days from the date of registration.
Are men and women added to the same group?
No, there is a separate group for men and women.
Whom to contact if I need any assistance/escalations?
hello@kannadagottilla.com